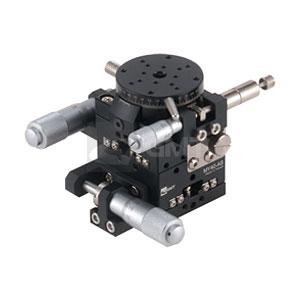 This manual rotary positioning is made of aluminum alloy with an black anodized coating.

The Table size has Ø38 body weight of 0.42 kgf.

The maximum load of this super thin table is 1 kgf.

The Multiple axes is base MY40–AS, Middle ..and Top MR38-A .

The Outline dimensions are W 85.25 , D 88.25 and H 60 mm.

The Range of Travel are X +/-6.5 , Y +/-6.5 and Z - , Ø Coarse360° Fine+/-0.5°.


Specifications
Unit: mm


Model No.
Multiple axes
Table
size
Outline dimensions (mm)
Range of Travel (mm)
Load capacity
(kg)
Weight
(kg)
Base
Middle
Top
W
D
H
X
Y
Z
θ
MXYR38-A
MY40-AS
-
MR38-A
Ø38
85.25
88.75
60
+/-6.5
+/-6.5
-
Coarse360°
Fine+/-0.5°
1
0.42
Mechanical Drawing