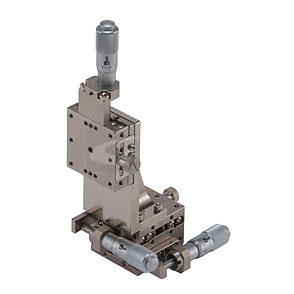 This manual XYZ positioning stage is made of stainless steel with electroless nickel plating.

The table size is 25 x 25 mm has a body weight of 0.21 kg.

The maximum load of this super thin table is 1 kg.

The movement accuracy is Straightness 5microns ,Vertical yawing 30" and Parallel yawing 30" 25".


Specifications
Part No..
Table
size
Axis
Load Capacity
(kg)
Weight
(kg)
Material
Surface
finish
Movement accuracy
Straightness
Vertical yawing
Parallel yawing
MXYZ25-S
25 by 25
XYZ
1
0.21
SUS 440C
Electroless nickel plating
5 micron
30"
30" 25"
Mechanical Drawing