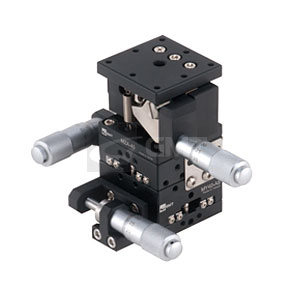 This manual crossed roller XYZ-axis positioning stage is made of aluminum alloy with an black anodized coating.

The table size is 60 x 60 mm has a body weight of 1.07 kg.

The maximum load of this super thin table is 4 kg.

The Multiple axes is base MY60–AS, Middle ..and Top MZA–60 .

The Outline dimensions are W 117.5 , D 91.45 and H 95 mm.

The Range of Travel are X +/-6.5 , Y +/-6.5 and Z +/-5.0.


Specifications
Part No..
Multiple axes
Table
size
Outline dimensions (mm)
Range of Travel (mm)
Load Capacity
(kg)
Weight
(kg)
Base
Middle
Top
W
D
H
X
Y
Z
θ

MXYZA60-A
MY60-AS
-
MZA-60
60×60
117.5
91.45
95
+/-6.5
+/-6.5
+/-5.0
-
4
1.07
Mechanical Drawing