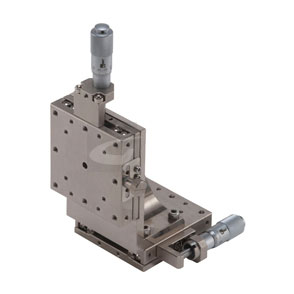 This manual crossed roller XZ-axis positioning stage is made of stainless steel with electrless nickle plating.

The table size is 100 x 100 mm has a body weight of 3.63 kgf.

The maximum load of this super thin table is 5 kgf.

The movement accuracies are: Straightness 5Ám, Vertical yawing 25" and Parallel yawing 15".


Specifications
Unit: mm


Model No.
Table
size
Axis
Load capacity
(kg)
Weight
(kg)
Material
Surface
finish
Movement accuracy
Straightness
Vertical yawing
Parallel yawing
MXZ100-S
100 by 100
XZ
5
3.63
SUS 440C
Electroless nickel plating
5 μm
25"
15"
Mechanical Drawing