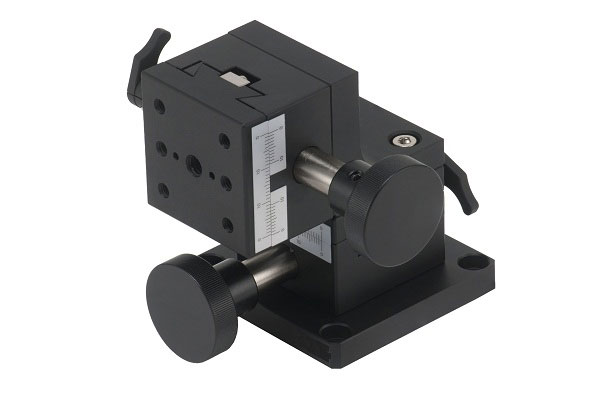 MCM-44WL manual, dovetail, rack and pinion, X+Z-axis stages provide precise and accurate micrometer driven XZ-axis adjustment of a top platform.

These manual X+Z-axis linear dovetail feed screw is made of aluminum alloy with an elegant black anodized coating.

The table sizes are 40 X 40 mm and have a body weight of 0.52.

The stroke is X: +/-10 and Z: 10 mm.

The movement accuracy straightness is 30 microns.

The minimum reading is 0.1 micro-meter with indicator scale.
Specifications
Unit: mm

Part No..
Table
Size
Axis
Movement accuracy
straightness
Weight
(kg)
Material
Surface
finish
Travel Distance
Knob No
Minimum reading
indicator

MCM-44WL

40 mm by 40 mm
X+Z axis
30 micron
0.52
Aluminum Alloy
Black anodized
X: +/-10
Z: 10
Dual
0.1mm/indicator

MCM-44WL
Ordering Information
| | | |
| --- | --- | --- |
| Part No. | Description | Amount |
| MCM-44WL | Manual Stage, Dovetail Stage, Rack and Pinion XZ-axis, Range of Travel X: +/- 10 mm, Z: 10 mm | Click to Get a Quote |