Motorized Linear Vertical Stage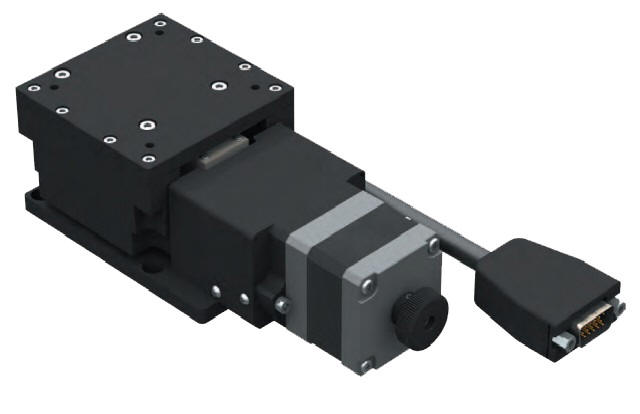 The AZ7010-A Motorized Vertical Elevator Stage is a low-profile and compact 169.4 mm x 70 mm..

It perfectly suited for low cost, high resolution, wedge type, vertical elevator applications requiring precise vertical positioning.

The crossed roller guides and a precision ground 8-mm-diameter 1000 microns/turn lead ball screw provides smooth, straight (straightness to better than 5 microns). More after the jump.

The stage delivers good parallelism (<30 microns to the mounting surface), and high resolutions to 0.5 microns (full step), 0.25 microns (1/2 step), and 0.05 microns (1/10 micro step), and repeatability to +/- 0.5 microns. Travel speeds are up to 5 mm/sec.

The typical applications for the AZ7010-A elevator stage include:

• Photonic alignment, wafer inspection, precision vertical alignment, laser marking
• Optical positioning, testing, inspection, assembly, sampling
• Laser drilling and machining in a broad range of industrial, medical, semiconductor, and research facilities

The AZ7010-A Elevator Stage is constructed of black-anodized aluminum alloy and weighs just 1.1 kg (2.5 lb). A powerful NEMA 14 1.8° 2-phase stepper motor has a double ended shaft with a knob for manual adjustments. This knob may be replaced with a quadrature encoder for position verification. The non-cantilevered moving wedge elevator stage has a Load Capacity of 10 kg (22 lb) without concern for loss of parallelism, and the base plate has easy to access holes for mounting.




Specifications
Type

AZ7010-A

M
e
c
h
n
i
c
a
l

s
p
e
c

Table Size

70 X 70 mm

Range of Travel
10 mm
Travel Guide
Ball screw Φ8, lead 1000 micron / turn
Runway

Cross-roller lead-type

Load
10 Kg
Body Weight
1.1 Kg
Material
Aluminum Alloy
Surface treatment
Black Anodized

T
y
p
i
c
a
l

P
r
e
c
i
s
i
o
n

S
p
e
c

2-phase
resolution
(pulse)
Resolution Full Step / Half Step
5 micron / 2.5 micron
Micro Stepping(1/10 step)
0.5 micron
Maximum Speed
5 mm / sec
Positioning Precision
5 micron
Repeatability
+/- 0.5 micron
Parallelism
20 micron
Dynamic Straightness
5 micron
Dynamic Parallelism
26.5 micron
Electrical Connection
| | |
| --- | --- |
| Pin No. | Description |
| Two-Phase Stepper Motor (1.8°) | 35H36H-1004B |
| Typical Phase Resistance | 2.7 Ohms, Bi-directional |
| Typical Phase Current | 1 Amp |
DB-15 Male Connector
| | |
| --- | --- |
| Pin No. | Description |
| 1 | Stepper Motor Stepper Motor Phase A+ |
| 2 | Stepper Motor Stepper Motor Phase A- |
| 3 | Stepper Motor Stepper Motor Phase B+ |
| 4 | Stepper Motor Stepper Motor Phase B- |
| 5 | Not Connected |
| 5 | Not Connected |
| 5 | Not Connected |
| 8 | Not Connected |
| 9 | +5 VDC Power Input |
| 10 | One Pulse per Motor Revolution, Open Collector. Normally High, Active Low |
| 11 | +5 VDC Power Input Common |
| 12 | Not Connected |
| 13 | Not Connected |
| 14 | Not Connected |
| 15 | Not Connected |
Stepper Motor Driven Mechanical Drawing
Ordering Information
| | | |
| --- | --- | --- |
| Part No. | Description | Amount |
| AZ7010-A | Motorized Linear Vertical Stage, Table Size 95 x 60 mm | Click to Get a Quote |