XY-theta Alignment Stage
The XYR-50-60 Motorized XY-theta Stage is a high resolution, low profile, high load capacity, horizontal stage that can be easily integrated into any current or future application.

The precision ground screws provide 0.787 in x 0.787 in (+/-10 mm x +/-10 mm) of travel in XY plane with high resolution and repeatability. The theta (rotary) axis range of travel is +/-180 degrees.

Some applications for the three-axis alignment stage include: testing, inspection, assembly and sampling in a broad range of industrial, medical, semiconductor and research facilities.

The stage is equipped with stepper motors. The X and Y axes incorporate the positive and negative limit switches. The rotary stage incorporates a HOME (INDEX) switch.

The rotary stage is also available with servo motor.

A solid core version is also available.

This stage requires a Motion Controller that can be ordered as a complete plug-and-play system with RS-232, USB, joystick, trackball, and keypad control.
Part No..
Table
Diameter (mm)

Gear Ratio

Range of Travel

Thickness
(mm)
Load Capacity (kg)
Weight
(kg)

X

Y

θ

X (mm)

Y (mm)

θ (Deg)

XYR-50-60-01

60
1 mm per Motor Revolution
1 mm per Motor Revolution
4° per Motor Revolution
50
50
360 Continuous
100.5
10
5.5
Type

XY Plane

Structure Description

Range of Travel

50 mm X 50 mm

Table Diameter
60 mm
Actuator Type
Lead Screw (1 mm per turn)
Travel Guide

Precision V-groove & Crossed Roller

X Motor

Y Motor

Rotary Motor

Two Phase Stepper Motor (1.8°)

Typical Phase Resistance
3.8 Ohms, Bi-directional
Typical Phase Current
1 Amp

DB-9 Male Connector

Pin Assignment and Description

1,2,3,4,5
Not Connected
6
Stepper Motor Phase A+
7
Stepper Motor Phase A-
8
Stepper Motor Phase B+
9
Stepper Motor Phase B-

Base Material
Aluminum Alloy
Surface Treatment
Black Anodized
Load Capacity
9 kg

Typical Accuracy Description

Resolution
5microns (Full Step)
0.25microns (20 Micro-steps per Step Motor Driver in use)
Repeatability
1.5 microns
Positional Accuracy
5 microns

Accessories Description


Optical Encoder

Type

Rotary axis

Structure Description

Range of Travel

360 degrees

Stage Diameter
60 mm
Gear Ratio
90:1
Drive Mechanism

Worm Gear

Travel Guide
Bearing
Base Material
Aluminum Alloy
Surface Treatment
Black Anodized

Typical Accuracy

Resolution
0.002 degrees (10 micro-steps per step)
Repeatability
+/-0.01 degrees
Positional Accuracy
0.05 degrees
Maximum Speed with stepper motor
30 degrees per second
Maximum Speed with servo motor
90 degrees per second
Electrical Connection

Two-Phase Stepper Motor (1.8°) Typical Phase Current: 0.67 Amps for XY axes, 1.0 Amp for Rotary axis

DB-9 Male Connector

, X and Y axes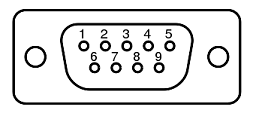 Pin No.

Description

1
+5 VDC for the Limit Sensors
2

CCW Limit Switch
The table moves away from the motor
The knob turns counter clockwise
Open Collector
Normally Open
Needs Pull up Resistor (typically 1000 Ohms)


3

CW Limit Switch
The table moves towards the motor
The knob turns clockwise
Open Collector
Normally Open
Needs Pull up Resistor (typically 1000 Ohms)

4
Return for+5 VDC
5
Not Connected
6
Stepper Motor Phase A+
7
Stepper Motor Phase A-
8
Stepper Motor Phase B+
9
Stepper Motor Phase B-
DB-9 Male Connector

, Rotary axis

Pin No.

Description

1
+5 VDC Input
2
Not Connected
3
Not Connected
4
Common
5
HONE (INDEX) Signal
Open Collector
Normally Open
Needs Pull up Resistor (typically 1000 Ohms)
6
Stepper Motor Stepper Motor Phase A+
7
Stepper Motor Stepper Motor Phase A-
8
Stepper Motor Stepper Motor Phase B+
9
Stepper Motor Stepper Motor Phase B-
Stepper Motor Driven Mechanical Drawing - 60 mm
Ordering Information
| | | |
| --- | --- | --- |
| Part No. | Description | Amount |
| XYR-50-60-01 | Stepper Motor Driven XY-Rotary Alignment Stage, Range of Travel, X-axis 50 mm, Y-axis 50 mm, Rotary-axis 360 (Deg. Continuous) | Click to Get a Quote |
| XYR-50-60-04 | Stepper Motor Driven XY-Theta Alignment Stage with 500 Cycles per Revolution Optical Encoder Mounted at the back of the Stepper Motor, Range of Travel, X-axis 50 mm, Y-axis 50 mm, Rotary-axis 360 (Deg. Continuous) | Click to Get a Quote |