Programmable Solenoid Driver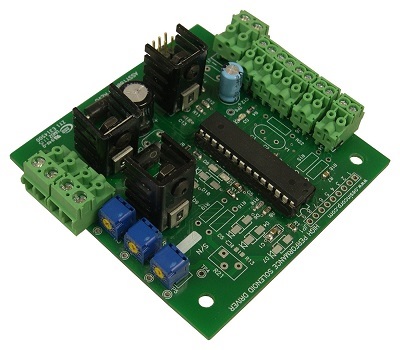 Features

Plug-and-Play

Stand-alone

Runs up to Two Devices Simultaneously

Quick and Easy to Install

Very Compact and Easy to Use

Capable of Running Script Command

Different Modes of Operation:
1) Host Controlled
2) Stand-alone, No PC Required to Operate

Features

Low Cost


Small Size


Low Weight


Highly Efficient


Stand Alone
Plug-and-Play

Stand-alone

Runs up to Two Devices Simultaneously

Quick and Easy to Install

Very Compact and Easy to Use

Capable of Running Script Command


Highly Reliable


Pulse Width Modulated (PWM)


Single Supply, from +9 VDC to +50 VDC


High Supply Voltage, +50 VDC


High Output Current, 15 Amps Peak, 4 Amps RMS

Incorporates Flyback (Snubber,

Freewheeling)

Diode per Output Device

Different Modes of Operation:
1) Host Controlled
2) Stand-alone, No PC Required to Operate


QUANTITIES AVAILABLE IN STOCK



Typical Applications

Solenoids


Valves


Relays


Actuators


Voice Coil Actuators


DC Motors


Hydraulics


Electromagnets


LEDs



General Specifications

Supply Voltage, +9 to +50 VDC


Peak Current, 15 Amp


Average Current, 4 Amp


The Programmable Solenoid Driver is designed for actuation of electro-mechanical components.

The typical applications of the module is actuation solenoids, electro-magnets, relays, motors, voice coil motors, actuators, valves and other applicable devices.
The compact and stand-alone unit consists of controller, drivers. It conveniently connects to the serial port or USB of the host computer.

The module may be controlled in different ways;

1) Stand-alone
In this mode, the controller does not need an external device such as a PC to operate. The controller is programmed in a simple programming language. The code is developed, downloaded to the controller, run and saved in the controller's non-volatile memory using the supplied Integrated Development Environment (IDE) software.

2) Externally Controlled
In this mode, the external host such as a PC, micro-controller or PLC sends a series of commands to the controller via the RS-232 serial port. The controller processes and performs the incoming commands and responds with proper messages.

The module interfaces to a wide variety of analog and digital transducers to monitor the output process. These include LVDTs, RVDTs, Proximity Sensors, Accelerometers, Optical Encoders, Laser Interferometers, Pressure Sensors and other similar devices.
Actuators

Linear and Rotary Solenoids



Voice Coil Actuators

Actuator Driver

Pulse Width Modulated (PWM)



Wide Output Voltage


High Output Current

Current Controlled or Voltage Controlled

Power Requirement

Communication Interface

RS-232, Ethernet and USB Interface


Feedback Devices

LVDTs and RVDTs


Laser Interferometers

Pressure Transducers

Any Analog Signal


Absolute and Incremental Optical Encoders

General Specifications

Drives up to 2 Devices Simultaneously

Mechanical Specifications
Mounting Pattern
Four 6-32 Screws, 0.15" Diameter (3.8 mm)
Dimensions
3.00" W, 3.00" D, 0.85" H (76.2 mm, 76.2 mm, 21.5 mm)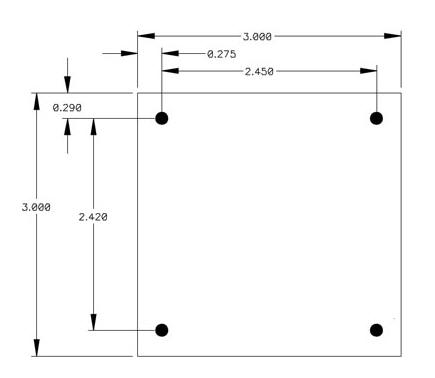 Ordering Information